By Edwin Fernandez
---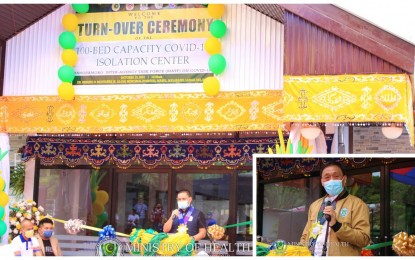 ---
COTABATO CITY: Health officials in the Bangsamoro Autonomous Region in Muslim Mindanao (BARMM) have turned over a 100-bed isolation facility for coronavirus disease 2019 (Covid-19) to Malabang, Lanao del Sur, the region's Ministry of Health (MOH) announced Thursday.
Dr. Bashary Latiph, BARMM health minister, said the facility, amounting to some PHP25 million, was handed over to the management of the Dr. Serapio Montañer Memorial Hospital in Malabang on Wednesday.
"The isolation facility will not only benefit Malabang constituents but all nearby municipalities of Lanao Del Sur amidst the Covid-19 pandemic," Latiph told reporters here in an interview.
The BARMM's Ministry of Public Works (MPW) funded the project, with the MOH taking charge of its operation, according to Dr. Ameril Usman, MOH-BARMM director-general.
In a separate interview, MPW Minister Eduard Guerra said the Covid-19 center is fully air-conditioned with closed circuit television cameras and other conveniences to serve the coastal towns of Lanao del Sur such as Malabang, Kapatagan, Balabagan, Marogong, Butig, Picong and Sultan Naga Dimaporo.
"We are changing the perception of the people on what public hospital is, as it serves without boundaries," Guerra said, adding that "health service is for all."
Dr. Alinader D. Minalang, Lanao del Sur health chief, has lauded the MOH and MPW for the new isolation center.
"We assure you of our continuing and unabated services to our constituents," he said.
Aside from the Malabang isolation facility, both Latiph and Guerra said their respective offices are also collaborating on the establishment of more health facilities across the region.
"On top of these is the establishment of the RT-PCR (reverse transcription-polymerase chain reaction) laboratory inside the Maguindanao provincial hospital in Shariff Aguak town," Latiph said.
(Philippine News Agency)