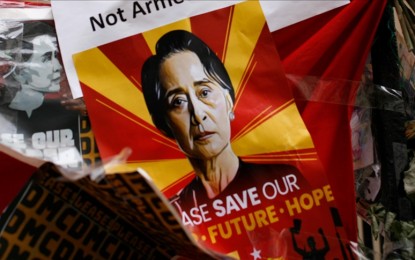 ---
ANKARA: Myanmar's military regime on Monday filed another lawsuit against ousted state counselor Aung San Suu Kyi, accusing her of "violating natural disaster law."
"A new charge of violating natural disaster law was added to charges … bringing the total to six cases," Myanmar Now news agency quoted her lawyer as saying.
At her latest court hearing, Suu Kyi, who appeared via video link, also asked to be allowed to meet her lawyers in person.
Charges against the de facto leader of the National League for Democracy, Myanmar's former ruling party, include possessing illegal walkie-talkies, violating COVID-19 guidelines, as well as breaking an official secrets law.
The hearing came as opponents of the Feb. 1 military coup called for a show of defiance during Thingyan, the upcoming Buddhist New Year holiday.
The military junta has used brutal methods to quell a growing protest movement against its rule.
According to the Thailand-based Assistance Association for Political Prisoners, security forces have killed at least 706 people since the takeover.
(Anadolu/PNA/SRNY/RSP)