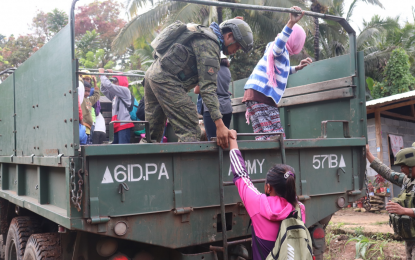 ---
COTABATO CITY: A total of 181 civilian families displaced by armed hostilities due to a clan war in upland South Upi, Maguindanao have been escorted back to their community, officials said Wednesday.
South Upi Mayor Reynalbert Insular said the evacuees could start rebuilding their shattered lives with the help of the local government unit (LGU), and military and police authorities.
"We will provide interventions, so they can rebuild their lives and their homes in their villages," he told the Philippine News Agency (PNA) here in a phone interview.
Insular, the Army's 57th Infantry Battalion (IB), and the town police led by Lt. Melvin Fontanilla, facilitated the "Balik Barangay of the 181 Pamilyang Bakwit" early morning of the same day.
Insular said the most important part of the process was the signing of a peace commitment between 40 Indigenous Peoples (IPs) belonging to several Teduray clans and the Omar family in Barangay Lamud of South Upi, Maguindanao.
The IPs and the Omar clan have been locked in a long-standing feud over the ownership of vast tracts of land in the village.
A simple program was conducted before the 57IB brought the evacuees back to their homes aboard military trucks.
During the program, the local government of South Upi solicited the commitment of all concerned parties in maintaining peace and security in the area and to avert future skirmishes that would again lead to civilian displacement.
In the same program, the affected families expressed their thoughts and feelings about the conflict situation that began way back years.
"With the signing of the peace covenant, the displaced families were convinced to return home," Fontanilla said in a separate interview.
After the program, the affected families received food packs from the Bangsamoro Autonomous Region in Muslim Mindanao's Ministry of Social Services and Development as immediate assistance for their journey back home.
The 57IB has established a detachment in Barangay Lamud for the preservation of the peace and order situation in the area.
(Edwin Fernandez/PNA/SRNY/RSP)