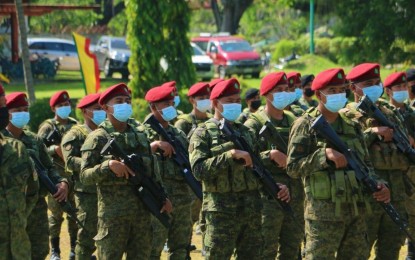 ---
CAMP SIONGCO, Maguindanao: The Army's 6th Infantry Division (6ID) in Central Mindanao received a boost with the recent arrival of the 1st Brigade Combat Team (1BCT) here.
Maj. Gen. Juvymax Uy, the 6ID commander and chief of Joint Task Force Central (JTFC), welcomed the 1BCT, which was backed by armored personnel carriers, on April 6, 2021.
The troop augmentation is seen to strengthen the security forces' presence in support of peace-building and development efforts in the region.
Uy said the 1BCT is a rapidly deployable unit composed of infantry, mechanized, and artillerymen; support combat engineers; and explosive ordinance disposal teams.
"It has been involved in the campaign against the Abu Sayyaf Group in the province of Sulu from 2019 until 2020 and has significantly contributed to the neutralization of local and foreign terrorists," he said in a Facebook post on Sunday.
Last year, the 6ID and JTFC's area of coverage was extended to cover the provinces of South Cotabato and part of Sarangani.
Uy said the additional troops will fortify the Philippine Army's capabilities and strengthen the campaign against local terrorist groups, including the Bangsamoro Islamic Freedom Fighters, Dawlah Islamiya, New People's Army, and other lawless groups in the Central and the South-Central Mindanao areas.
"This is part of our commitment to the residents in the region to serve the people and to secure the communities from any threat," he said.
(PR/PNA/SRNY/RSP)