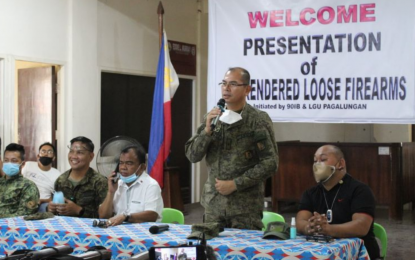 ---
COTABATO CITY: In support of the Armed Forces of the Philippines' disarmament campaign, a town mayor in Maguindanao led the turnover of assorted loose firearms to the Army's 602nd Infantry Brigade (602Bde) Wednesday.

"The surrender of these firearms signaled a better relationship between the military and the locals," said Brig. Gen. Roberto Capulong, 602Bde commander, as he welcomed the move of the officials of Pagalungan town in Maguindanao, headed by Mayor Salik Mamasabulod.

"We in the 602Bde serve as a bridge leading to the attainment of peace and development in Pagalungan," Capulong said.

Mamasabulod turned in three M14 rifles, two Garand rifles, and two M1 Carbine rifles.

"The absence of loose firearms in Pagalungan means a lesser possibility for crimes to be committed in our locality," Mamasabulod said during the turnover ceremony at the town hall building. 
(Edwin Fernandez/PNA/SRNY/RSP)