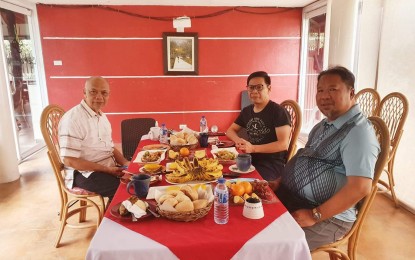 ---
COTABATO CITY: A leading civil executive in Southern Philippines has expressed the need for long-term stability in the region so that this may pave the way for investments in fields like trade and maritime development.
This, according to lawyer Naguib Sinarimbo, spokesperson for the Bangsamoro Autonomous Region in Muslim Mindanao (BARMM), in a recent video statement on Muslim Mindanao's vast potentials for economic development.
Initial oil exploration works are ongoing "in the Sulu Sea and the Moro Gulf, as well as in the Liguasan Marsh," said Sinarimbo, who concurrently serves as the BARMM's Minister of the Interior and Local Government.
All three areas have been considered by multiple scientific sources as "resource-rich" in terms of maritime as well as mineral assets.
"These resources can actually be exploited and developed and become beneficial to the constituents of the region as well as the world," he said.
He, however, added that "what we need is, of course, a stable peace and security in the region so that we can exploit all of these potentials."
He said BARMM "sits strategically in the South China Sea and the Pacific through which a substantial volume of cargo passes through."
These cargoes may come from nearby Australia and proceeding to China, he said, or China-made products finding their way to Europe.
Whatever the origin or destination and given the right infrastructure and policy support, he added, more of these goods should pass through the internationally-recognized Sibutu Strait off Tawi-Tawi.
Civil and military sources in 2019 estimated that the Sibutu Strait, which lies between the Sulu Archipelago and Indonesia's Borneo, was host to some $51 billion worth of sea cargo every year.
"This can be exploited through the development of a logistics hub not just for this region but for the country. So this offers a lot of potentials," Sinarimbo said.
A Bangsamoro Organic Law was signed into law in 2018 by President Duterte.
This effectively laid the ground for the rebuilding of institutional structures for civil governance.
Yet, the transition from war to peace has not been easy, given the demands of bureaucracy.
A source, who requested anonymity, said, "building the capability to effectively govern takes time. It is a tight balancing act given the challenges of pursuing equitable development in the region."
To date, both Muslim and Christian leaders in the Congress, academe, Church, and grassroots organizations are united in calling for an extension of the transition period from the old to the new autonomous government.
Over a million signatures in support of the call have so far been gathered online.
(PR/PNA/SRNY/RSP)