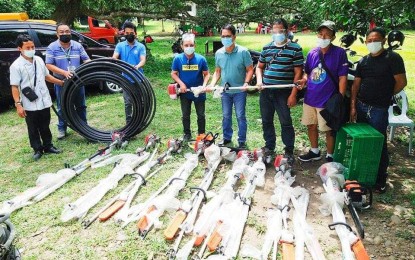 ---
COTABATO CITY: To empower farmers in the face of the pandemic and improve their productivity and profits, North Cotabato's provincial government on Wednesday distributed some PHP1.8-million worth of farming tools.
North Cotabato provincial administrator Efren Piñol said the farming tools dispersal was in partnership with the Office of the Provincial Agriculturist for various local government units (LGUs) in the province.
The items apportioned to farmers included small crop rain shelters for farmers in the towns of Alamada, Antipas, Libungan, Magpet, Makilala, and Matalam, and 10,000 meters of plastic pipes for farmers' organizations in Alamada, Arakan, Magpet, and Makilala.
Piñol also said that farmers in the towns of M'lang, Aleosan, Antipas, Kidapawan City, Libungan, Magpet, Makilala, Midsayap, Pigcawayan, and Arakan have received 10 units of pole pruners.
"Farmers in Kidapawan City and Pikit town were also recipients of mini-chainsaws, while growers in all 17 towns and Kidapawan City were given 700 pieces of plastic crates for the gathering of their produce," he said.
Recipients of the farming tools lauded the provincial government and pledged to use them to increase productivity and profit.
(Edwin Fernandez/PNA/SRNY/RSP)