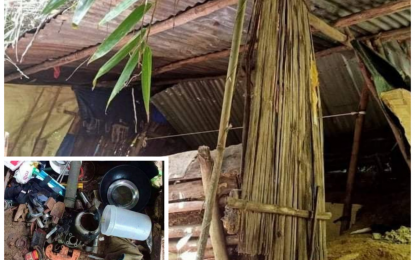 ---
CAMP SIONGCO, Maguindanao: The military has captured an abandoned lair of the Daesh-inspired Bangsamoro Islamic Freedom Fighters (BIFF) in Maguindanao and seized improvised bombs and other bomb-making materials.
Lt. Col. Raymond Rapi, Army's 1st Scout Ranger Battalion (1SRB) commander, said Thursday the soldiers found the BIFF lair in the mountains of Ampatuan town after a series of clashes in the village of Salman.
"The soldiers discovered an abandoned hideout-cum bomb-making area of the BIFF that has several running trenches and half-size basketball court," Rapi told reporters here.
Government forces had a running gun battle against the BIFF in Maguindanao on March 18 that affected the towns of Shariff Aguak, Datu Saudi Ampatuan, Mamasapano, Shariff Saydona, Datu Unsay, and Ampatuan.
The 1st SRB has been pursuing the BIFF in the interiors of Ampatuan town, Rapi said.
On Wednesday afternoon, a search around the Salman area resulted in the recovery of seven improvised explosive devices (IEDs), blasting caps, bomb components, electrical wire, solar panel, power supply inverter, two-way radio sets, mobile phones, binocular, a motorbike and other personal items.
On Tuesday, elements of the 23rd Company of the 1st Mechanized Battalion also clashed with a BIFF band in Sitio Bagorot, Barangay Tuayan, Datu Hoffer that led to the recovery of two IEDs ready for disposal.
Maj. Gen. Juvymax Uy, Army's 6th Infantry Division commander, said that earlier this week, seven IEDs were also disarmed in Salman village as planted by withdrawing BIFF gunmen.
"This brings to a total of 16 IEDs and several BIFF firearms seized so far in ongoing military clearing operations in the affected towns," Uy said.
(Edwin Fernandez/PNA/SRNY/RSP)