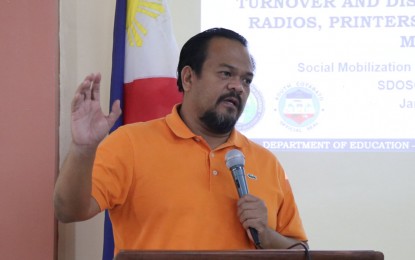 ---
GENERAL SANTOS CITY: The provincial government of South Cotabato ordered the deployment of marshals in resorts and various tourist destinations as it expects the influx of visitors in the area during the Holy Week break.
South Cotabato Gov. Reynaldo Tamayo Jr. said Monday the move is aimed to ensure the proper enforcement of the preventive measures and protocols against the coronavirus disease 2019 (Covid-19) in the wake of its continuing community transmission.
He cited the wearing of face mask and face shield, the observance of safe physical distancing and other related measures.
The governor warned that the local government may temporarily close down tourism sites or establishments that will not comply with the minimum health protocols.
"This is to prevent another surge of Covid-19 that might force us again to impose stricter measures," he said in his weekly radio program "Ang Gobernador kag ang Katawhan (The Governor and the People)."
Tamayo reiterated that the entire province remains under modified general community quarantine (MGCQ) as set by the national government.
Based on the MGCQ guidelines, gatherings like religious services may be held while resorts and tourism establishments are allowed to operate but only at 50 percent capacity.
He advised residents to just stay home if possible and limit their movements during the Holy Week break, especially from Maundy Thursday to Easter Sunday, due to the continuing threats posed by the spread of Covid-19.
He said the Christian faithful may attend the scheduled religious services and processions but should strictly observe the minimum health standards.
"We have a long weekend ahead. This is the time for us (to) reflect and not go elsewhere to have merrymaking. Let us ponder on the sacrifices of Jesus Christ for us," he said.
As of Sunday night, the confirmed Covid-19 cases in the province already reached a total of 1,719, with 49 related deaths, and 1,601 recoveries.
Of the 69 active cases, 62 or 90 percent are either asymptomatic and have mild symptoms while seven or 10 percent have moderate symptoms.
The Integrated Provincial Health Office said the province's Covid-19 cases are considered manageable, with more patients expected to recover in the coming days.
Tamayo admitted that they are concerned with the latest surge of positive cases in Luzon, especially the feared mutant variants of Covid-19, due to the continuing arrival of returning residents and travelers from these areas.
He assured that the local government has been continually monitoring the arrivals from Metro Manila and other affected areas, and implementing the necessary measures to prevent and control the spread of the disease.
(Allen Estabillo/PNA /SRNY/RSP)