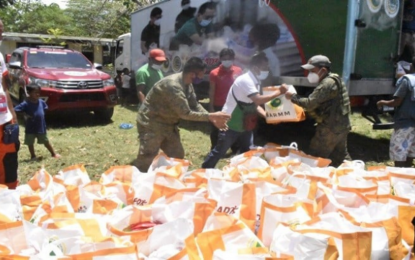 ---
CAMP SIONGCO, Maguindanao: Two more members of the extremist Bangsamoro Islamic Freedom Fighters (BIFF) were killed in separate skirmishes in Maguindanao, the Army said Wednesday.

In Shariff Aguak town, government troops foiled an attempt Tuesday evening by the BIFF to overrun a detachment in Barangay Labu-Labu, said Lt. Col. Pedro Balisi, the Army's 1st Mechanized Brigade commander.

"A 45-minute firefight ensued that left a BIFF killed. Soldiers recover a cal. 45 pistol, a rifle grenade and other war materials from the slain terrorist," Balisi told reporters in an interview.

In Barangay Ahan, Guindulungan town in Maguindanao, he said elements of the Army's 57th Infantry Battalion encountered armed members of the BIFF-Bungos faction, also on Tuesday evening.

He said civilians reported to the Army the presence of armed men in the area. When soldiers arrived to verify the report, they were fired at by the BIFF, triggering an hour-long encounter.

He said the troops recovered the body of a slain BIFF combatant when the smoke cleared, including a 12-gauge shotgun, military uniforms, and several bomb-making materials.

"We appreciate the cooperation of the civilians and the local government units in reporting the presence of local terrorist groups in their communities," he said.

He said the clashes in Shariff Aguak and Guindulungan towns were an offshoot to skirmishes in Barangay Kitango, Datu Saudi Ampatuan, Maguindanao on March 18 that was punctuated by intermittent clashes during the past several days.

"The intermittent attacks was a diversionary tactic by the BIFF after incurring losses against the mightier Army in Barangay Kitango," he said.

The death of two more BIFF combatants brought to 16 the group's casualties since the March 18 skirmishes began. At least 25 others were injured, the military said.

Three soldiers were also injured, and more than 5,000 families evacuated to safer grounds since the skirmishes erupted.

Officials of the affected towns of Shariff Aguak, Datu Saudi Ampatuan, Mamasapano, Shariff Saydona Mustapha, and Datu Unsay said the displaced residents are currently housed in evacuation centers. 
(Edwin Fernandez/PNA/SRNY/RSP)