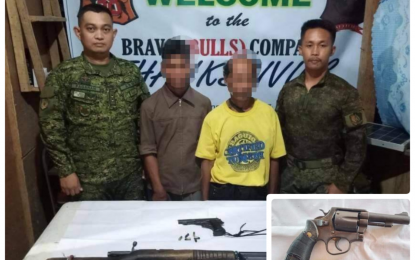 ---
CAMP SIONGCO, Maguindanao: Three disgruntled members of the communist New Peoples' Army (NPA) in Sultan Kudarat have surrendered to military authorities and vowed to convince comrades to return to the fold.
Lt. Col. Anhouvic Atilano, 38th Infantry Battalion (38IB) commander, said Tuesday the rebels, including a father-and-son tandem, have decided to surrender because the movement was not doing them any good.
The father-and-son, known only as alias "Dennis" and "Kalbo", were members of Platoon Cherrymobile of the NPA Sub-Regional Committee (SRC) Daguma in Sultan Kudarat.
The two laid down their arms Monday to the Community Support Program (CSP) teams of the 38IB deployed at Barangay Napnapon in Palimbang, bringing along a shotgun and a .45 caliber pistol with ammunition.
Another member identified as alias Jose, 37, a squad leader of SRC Daguma, surrendered in the same barangay last March 20 and brought with him a .38 caliber pistol with five rounds of ammunition.
The surrenderers revealed that more of their companions are soon to go down and go back to the folds of the government.
"The promise of good life tuned out to be like a prison cell for us, we experienced hunger, pain, and loneliness for our loved ones," Ka Dennis said.
Atilano said the series of surrenders were possible because of the support of the local government unit of Palimbang.
"In close partnership with the LGU, these former rebels are now being processed for the E-CLIP (Enhanced Comprehensive Local Integration Program) so they may receive aid from the government and start a new and peaceful life," Atilano said.
The NPA, together with the Communist Party of the Philippines and National Democratic Front, is listed as a terrorist organization by the United States, the European Union, the United Kingdom, Australia, Canada, New Zealand, and the Philippines. 
(Edwin Fernandez/PNA/SRNY/RSP)