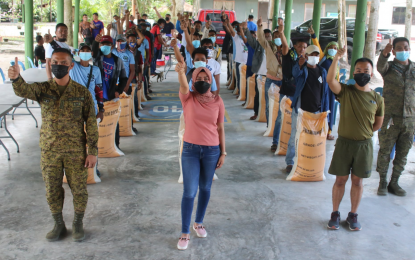 ---
COTABATO CITY: The Army's 40th Infantry Battalion (40IB) and the provincial government of Maguindanao jointly facilitated the distribution on Sunday afternoon of livelihood assistance to 28 former Moro rebels who opted to surrender to live normal lives.
Lt. Col. Edwin Alburo, the 40IB commander, and Nor-eimman K. Balayman, secretary of Maguindanao Governor Bai Mariam Sangki Mangudadatu, led the program held at the battalion headquarters in neighboring Barangay Tual of President Quirino town in Sultan Kudarat province.
Balayman lauded the former members of Bangsamoro Islamic Freedom Fighters (BIFF) for choosing the right path so they can live peacefully with their families.
"In the past years you have experienced sorrowful circumstances and hardships while fighting against the government forces and now, this is your good opportunity to return to your respective families," Balayman told the 28 former BIFF members.
Balayman said they are fortunate because the province of Maguindanao has always been committed to providing government services to its constituents, particularly in facilitating livelihood assistance suitable to the needs of former rebels.
Alburo also lauded the provincial government for its commitment to bring about peace in conflict-afflicted communities.
"With this kind of program, I am expecting that more extremist fighters will lay down their firearms and surrender to the government," he said.
Of the 28 former combatants, 12 surrendered to the 40IB and 16 to the 7IB during the past two weeks. The former BIFF members operated in the towns of General Salipada K. Pendatun, Sultan Sa Barongis, Paglat, and Pagalungan, all in Maguindanao.
Each received one sack of rice and a livelihood package to make them productive citizens in their respective communities. 
(Edwin Fernandez/PNA/SRNY/RSP)