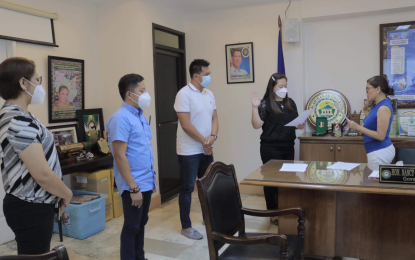 ---
COTABATO CITY: The wife of a slain Libungan, North Cotabato town mayor took her oath as a new member of the Sangguniang Bayan (Municipal Council) before North Cotabato Governor Nancy Catamco on Tuesday.
"Congratulations to your new career and welcome to the world of politics, Apple," Catamco said in a statement Wednesday to Angel Rose "Apple" Cuan, who used to be a plain housewife.
Accompanied by Libungan Mayor Francis Aris Yu, the widow took her oath at Catamco's office in Kidapawan City.
Her sister, Marie Lumanlan, Provincial Legal Officer John Paul Zerrudo, and Libungan Municipal Administrator Ruben Espabo witnessed the oath-taking ceremony.
In January this year, armed men murdered Libungan Mayor Christopher Cuan while inspecting a project near his home at the town's poblacion.
Investigation on the case is ongoing after a task force was formed to look into the incident.
A vacancy at the Libungan municipal council needed to be filled up after then-Vice Mayor Yu became the town mayor after Cuan's death, and the next in rank, Councilor Jems Fullecido, took the vice mayoralty position by the law of succession.
Before his death, Cuan was tagged in a list presented to President Rodrigo Duterte as among the narco-politicians in Mindanao.
Cuan and his wife repeatedly denied he was into the illegal drug trade. 
(Edwin Fernandez/PNA/SRNY/RSP)