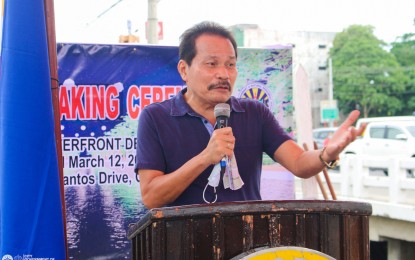 ---
KORONADAL CITY: The city government has allotted an initial PHP11.5 million for the development starting this year of a 2.8-hectare resettlement housing project for informal settlers in the area, an official said on Wednesday.
Mayor Eliordo Ogena said the initial preparations are underway for the project's initial phase in a local government-owned property in Barangay New Pangasinan.
Dubbed "Koronadal Cityville," he said it will rise near an emerging growth zone at the back of the barangay government center compound.
"The project will mainly cater to informal settler families that will be affected by the rehabilitation and development of the Blok Creek," he said in a statement.
He was referring to the ongoing clearing of the three-meter easement or buffer zone of the creek, the main waterway traversing the city proper, in preparation for the rollout of its waterfront development project.
The initiative involves the demolition of structures, including houses, within the buffer zone to pave the way for the construction of a walkway and its beautification.
Ogena said the initial PHP11.5 million funding, which is part of the local government's equity for the housing project, will be utilized for the development of the site based on the approved plan.
He said the National Housing Authority has allocated some PHP50 million for the construction of the housing units under the first phase.
A number of families settled at the buffer zone of the Blok Creek already agreed to avail of the resettlement offer following a series of negotiations and consultations, he said.
"We really have to relocate them permanently as they are always at risk every time the water level at the creek rises," he added. 
(Allen Estabillo/PNA/SRNY/RSP)