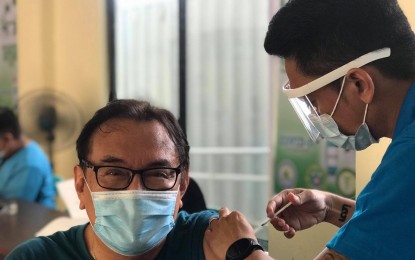 ---
GENERAL SANTOS CITY: Two elderly practicing doctors have availed of the Sinovac vaccines in the first two days of inoculation for priority frontline health care workers here, an official said on Tuesday.
Dr. Ryan Aplicador, deputy incident commander of the City Inter-Agency Task Force for the Management of Emerging and Re-emerging Infectious Diseases, said Dr. Wilfredo Garcia, 70, and Dr. Benjamin Pagarigan Jr., 69, were vaccinated with their first doses on Monday and Tuesday, respectively.
He said the two, who are still serving at the local government-run Dr. Jorge P. Royeca Hospital (DJPRH), volunteered to get the CoronaVac, the vaccine's trade name, despite being properly informed that it was not recommended for them due to lack of clinical trials.
The Department of Health (DOH) only recommended the vaccine to individuals aged 18 to 59 years old based on its "higher efficacy" rate.
But, Aplicador said the two doctors signed waivers that they want to receive the CoronaVac vaccine and submitted clearances from their personal doctors.
Aside from them, he said several health workers who have diabetes and hypertension were vaccinated after passing the mandatory screening.
"As of now, they are all in good condition and did not experience any adverse side effects," Aplicador told reporters.
Pagarigan, a former chief of the DJPRH, said he has full confidence that the CoronaVac will give him enough protection against the coronavirus disease 2019 (Covid-19).
"At my age, I can't risk that. I'll do this anytime even without a waiver," he told PNA before getting the vaccine.
He is hoping that their decision would inspire and encourage other health workers to get vaccinated early against the disease.
On the first day of inoculation, some 84 of DJPRH's 549 active personnel were given the CoronaVac vaccine.
Aplicador said that from the initial 40 percent who signified and gave their consent to be vaccinated before the rollout, the number has so far increased to about 50 percent.
"We're expecting that more will come forward until the (March 14) deadline," he said.
DOH-12 delivered last Saturday a total of 3,138 vials of the CoronaVac vaccine for the first dose of priority health care workers from six Covid-19 referral hospitals in the city.
These are the DJPRH, St. Elizabeth Hospital Inc.(SEHI), General Santos Doctor's Hospital, Socsargen County Hospital (SCH), Mindanao Medical Center, and GenSan Medical Center.
Partial data showed that 100 workers of SEHI and 61 from SCH received the vaccines on Monday.
Citing the DOH's guidelines, Aplicador said the unused vials will be returned to the agency's main hub in Cotabato City after the end of the seven-day vaccination period.
He added that the second dose or booster shots of the recipients will be administered on April 5.
(Richelyn Gubalani/PNA/SRNY/RSP)