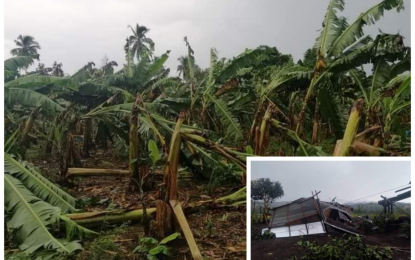 ---
COTABATO CITY: Heavy rains accompanied by strong winds have destroyed homes and crops in at least three North Cotabato towns over the weekend, officials said Monday.
North Cotabato Governor Nancy Catamco said the provincial disaster risk reduction and management council has been directed to assess the situation in Alamada, M'lang, and Tulunan after torrential rains and gusts of winds battered the towns Sunday evening.
"We are moving quickly to back up the initial aid extended by the local government units to their affected constituents," Catamco said.
In Alamada town, strong winds destroyed houses made of light materials and banana plants in Barangay Dado and Barangay Lower Dado.
Alamada Mayor Jesus Sacdalan said the affected families, numbering 150, have been given relief goods and emergency assistance. "We could not determine as of now the total damage wrought by the calamity as the assessment is still going on," he said.
In M'lang town, house roofs made of light materials were carried away by strong winds during the onslaught of weather disturbance that began at 5 p.m. Bernardo Tayong, M'lang municipal disaster risk reduction management officer, said the affected houses were in Barangays Bagontapay and New Janiuay.
Strong winds also toppled trees beside the national highway in M'lang and nearby Tulunan town.
"Nobody was reported hurt so far," Tayong said. 
(Edwin Fernandez/PNA/SRNY/RSP)