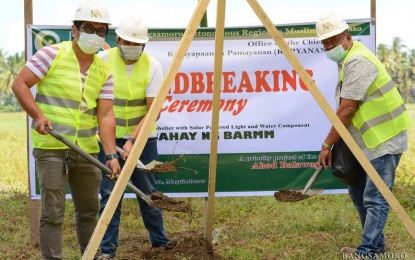 ---
COTABATO CITY: The Bangsamoro Autonomous Region in Muslim Mindanao (BARMM) will embark on a PHP23-million pro-poor project that will benefit indigent residents of a town in Maguindanao province.
Deputy project manager Abdulnasser Usman said Thursday 50 units of core shelters would be initially built at the housing project site in Sitio Tamigin, Barangay Tariken, Sultan Mastura, Maguindanao.
The undertaking is initiated under the Office of the BARMM Chief Minister Ahod Ebrahim's "Kapayapaan sa Pamayanan (KAPYANAN)" project.
"This project forms part of KAPYANAN's dream to uplift the living conditions of the poorest of the poor in the BARMM," Usman told reporters here.
On Thursday, the region's public works office has laid down the time capsule for the housing project that comes with solar-powered lights and water components.
Accompanying Usman were Sultan Mastura Vice Mayor Julhanie Tumbas Jr., Barangay Tariken chairman Nasrudin U. Ali, and Dawing Construction representative Fahad Sing.
Tumbas said the beneficiaries are deserving of the housing project because they were the ones greatly affected by conflicts between government forces and Moro rebels in the past.
"I was greatly elated when I heard of the project because the recipients will feel that the government really cares for them," he said.
KAPYANAN is one of the chief minister's pro-poor programs, formerly known as the Bangsamoro Regional Inclusive Development for Growth and Empowerment, which is mandated to deliver basic and appropriate services including affordable and progressive housing projects.
The project is expected to be completed by December 2021 and will be turned over to the recipients as soon as the shelters are ready for occupancy. 
(Edwin Fernandez/PNA/SRNY/RSP)