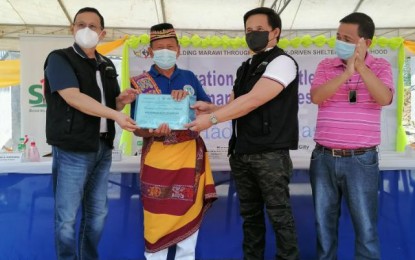 MANILA: Task Force Bangon Marawi (TFBM) on Thursday handed over permanent housing units to some 109 families affected by the May 2017 siege in Marawi City.
In his ground visit, TFBM chairperson Secretary Eduardo del Rosario led the distribution of "permanent house ownership certificates" of the Marawi Resettlement Site and Permanent Houses (Phase 1) in Barangay West Dulay.
Each two-story house, built on a 100-square-meter lot, has a floor area of 42 square meters and is equipped with a toilet and bathroom, a kitchen, basic lighting, and outlets as well as a sewage piping system.
The task force assured the subdivision-like resettlement is with electric and water supplies.
Del Rosario, also the country's housing czar, said the turnover activity of permanent housing units to internally displaced persons (IDPs) symbolizes the government's commitment to pushing Marawi's full recovery and rehabilitation efforts.
"The government, through the TFBM, remains steadfast in helping our Maranao brothers and sisters affected by the 2017 siege rebuild their lives in coordination with the implementing agencies and partner-organizations like UN-Habitat," he said.
He said the housing units would also secure the IDPs' health safety amid the coronavirus disease 2019 (Covid-19) pandemic.
According to the TFBM, the permanent shelters were constructed on a 1.8-hectare land provided and developed by Social Housing Finance Corporation (SHFC).
In collaboration with the task force's 56 implementing agencies, the permanent housing project was built under United Nations Human Settlements Program (UN-Habitat) through its Community-Driven Shelter and Livelihood Project with a USD10-million grant from the Japanese government.
"Having a house that the IDPs can now call their own is part of our commitment to ensuring Marawi's overall rehabilitation," said del Rosario.
The 109 IDP-families are the first batch among the Marawi residents to receive permanent shelters.
TFBM said more than 3,000 permanent shelters are now in various phases of construction.
Del Rosario's ground visit to Marawi City is part of the task force's monitoring efforts to ensure the progress of rehabilitation processes.
Amid the pandemic, del Rosario pointed out the massive rehabilitation works in Marawi City remain unhampered.
He said TFBM has implemented double-shift measures and hiring of more workers to fast-track the completion of various infrastructure projects in the war-torn city.
Del Rosario also inspected other ongoing infrastructure projects, including the repair of Marawi City Jail, construction of permanent housing sites in Barangay Gadungan and Barangay Kilala as well as the construction of Datu Naga barangay hall complex, the Grand Padian Market, and the Marawi museum.
The TFBM chair reiterated that the target project completion for Marawi rehabilitation remains on track within the scheduled timeline which is December this year. 
(Lade Jean Kabagani/PNA/SRNY/RSP)