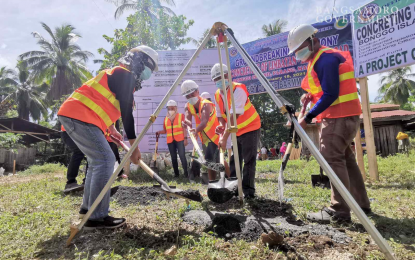 COTABATO CITY: The Bangsamoro Autonomous Region in Muslim Mindanao (BARMM) will begin the implementation next week of this year's PHP15 billion worth of development projects, including in special geographic areas, the regional public works office announced Saturday.
"The region's Ministry of Public Works (MPW) will build roads, bridges, flood control, and water supply projects, and other public works facilities all amounting to some PHP15 billion," MPW Minister Edward Guerra said in a statement.
In support of the moral governance advocacy of the BARMM leadership, Guerra said his office is sticking to its commitment to deliver the utmost quality infrastructure facilities and services to constituents of the region.
"We envisioned to increase strategic and climate-resilient infrastructure to support sustainable socio-economic development in the region," he added.
As planned, the MPW will build 601.22 km. of main roads and those leading to agricultural areas and tourism projects across the region and its opt-in areas and will rehabilitate 42 km. of damaged thoroughfares.
Opt-in areas, also known as the "special geographic areas", refer to the 63 villages in North Cotabato that opted to join BARMM.
Chief Minister Ahod Ebrahim said keeping the public informed of the MPW projects and promoting its transparency are all part of the Bangsamoro government's quest for moral governance.
On Thursday, the public works sub-office under Maguindanao 1st District Engineer Abobakar Avila broke ground for the concreting of the 700-meter Litayen-Limbayen road project in Bongo island, a landmass village in Parang town.
Guerra said the project, amounting to PHP14.5 million, would be funded under the district engineering office's 2020 appropriations.
"This road concreting project is aimed at connecting Barangay Litayen to Barangay Limbayan to lessen the travel time of the commuters and also give access to tourism site," Avila said of the project in the island community. 
(Edwin Fernandez/PNA/SRNY/RSP)