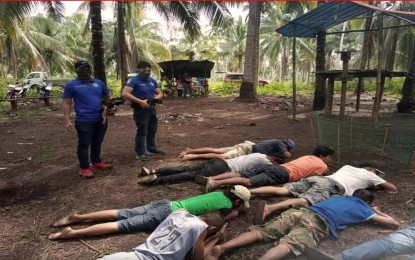 COTABATO CITY: Nine cockfight aficionados were arrested following a raid at an illegal cockfighting den in Parang, Maguindanao, Monday afternoon.
In a report, Police Maj. Esmael Madin, chief of the Criminal Investigation and Detection Group–Maguindanao office, said the raid took place around 3:40 p.m. in Barangay Gadungan following information from a tipster.
He identified those arrested as Badrudin M. Abdullah, Akas A. Naga, Almer A. Cacarao, Omak M. Silongan, Zamir I. Momen, Maky U. Panato, Molin M. Undaki, Abiden M. Esmael, and Amir M. Mokamad — all residents in the area.
"Two other aficionados who are allegedly residents of neighboring Buldon town managed to ran away before the arrival of the raiding team," he said.
The raiding team managed to seize nine motorcycles, two fighting cocks, and PHP3,000 worth of bet money from the suspects.
He said charges related to illegal gambling charges and social distancing violation will be filed against the suspects. 
(Noel Punzalan/PNA/SRNY/RSP)